[Using the example of Apple and Samsung]
Ecosystems, now more than ever, play an important role in company's strategy and ability to drive consumer success. Businesses that construct rich ecosystems around their solutions enjoy greater profitability and stability, due to increased pricing power and consumer loyalty. Now consumers want their devices to work seamlessly together for better user experience. User profile control and management is a central enabler of an ecosystem strategy.
According to Q4 2014 smartphone sales figures, Apple made more money than all of its competitors combined, capturing 93% of the profit in the mobile device market. Samsung, a recent leading incumbent in the telecommunications industry, made 9% of the profit for the quarter. Numbers add up to over 100% as other players like HTC, LG, Motorola and Nokia are losing money from their mobile divisions.
The figures above illustrate remarkable phenomenon in recent business history: a key player in the handset industry faces a continued profit share decline. Simultaneously, a company that had almost no presence in the smartphone market 8 years ago takes the lead, gobbling up the profit from a long-standing giant.
Numerous large, once-successful businesses fail because of a lack of differentiation from competitors, and a failure to adapt to market shifts. The example from handset manufacturers, which needs to be applied to automobile makers as well, should lead us to think of crucial keys to business success. Here, 'success' refers to the ability of a company to create a sustainable platform-based ecosystem of complementary products and innovation around itself - Tweet That! In this case, the primary issue for Samsung has been its decision to go with an open platform approach in contrast to Apple's closed platform and intense focus on ecosystem development.
Apple understood early that "software is eating the world" and that it is necessary to create a rich ecosystem around its products to increase the value for customers and grow business. Samsung, on the other hand has been mostly reliant on Android OS and continues to operate within an ecosystem that other vendors control (Facebook user ID, Google Maps for navigation, Google Play Store). However, Apple's ecosystems is unmatched with such components as iCloud, iTunes, App Store, Apple Pay and AppleCare protection plans. Success factors of Apple's iOS Ecosystem are:
The growth of connected cars could cause a similar redistribution of profits among automakers and other companies that are trying to enter the automotive industry. If car manufacturers want to secure their business and remain the sole provider of revenue-generating services, they should create rich ecosystems around their products and focus on producing complete, end-to-end mobility solutions. Due to safety concerns, automakers have a good argument for implementing a walled garden approach to application development. The automakers' market shares in the new environment are at risk if they are slow – and for the taking if they are fast.
Check out our website for the Connected Car building blocks and solutions: www.cloudmade.com
March 17th, 2015 - Posted by Olga Pogrebniak in connected car, ecosystems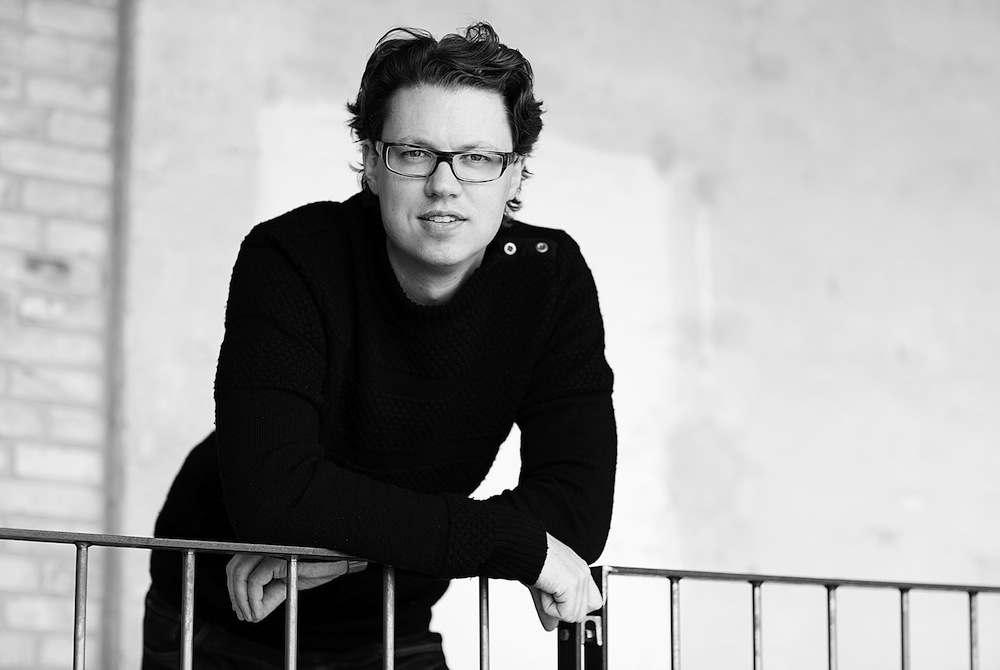 Menlo Park, CA – CloudMade announced today that Kristian Kroyer has joined the company as Creative Director. Kristian will lead all aspects of CloudMade's product design and drive the creative team and creative processes.
Kristian brings a wealth of experience in the design industry with 17 years of design strategy, brand strategy and creative leadership. He is a designer and strategist with an entrepreneurial mindset working at the intersection of design, technology and lifestyle where they meet in an innovative and valuable user experience. He co-founded a number of design driven companies and consultancies including Libratone, Eyegonomic and Designit Munich, and has worked with a variety of global consumer brands including LG, Bosch, Siemens, Hitachi, Philips and JBL. Kristian also currently serves as Creative Director at Cogniance, a global organization that helps innovators co-create technology products.
Kristian is Danish and holds a Master of Arts degree in Industrial Design from Aarhus School of Architecture. Scandinavian design is well-known for its high standards, sustainability, user focus and user involvement. This mindset is vital, considering the strong demand for knowledge of and experience with intuitive and user-centered design in many areas of the automotive industry, especially in the connected car field.
Kristian comments: "I am excited to join the company that has a shared vision of doing innovative work. I look forward to working with the team, the technology, and the vision. I am fascinated by the continual development and evolution of the connected car space and am happy to bring my experience and perspective to the industry."
Juha Christensen, CEO at CloudMade said: "Kristian's track record speaks for itself. His incredible experience, energy and strong focus on innovation has made him a key asset to the CloudMade family. We got an experienced designer, a thought leader, a lover of technology and a 360-thinker, all in one. We have a group of design talent waiting to be led. With Kristian on board, we have that leader."
Kristian has won numerous creative awards, including CES Innovations Design and Engineering Award, iF Product Award, Good Design Award, Red Dot Award and IDSA Award.
February 26th, 2015 - Posted by Olga Pogrebniak in company announcement
In a world where data privacy is a concern and the Connected Car business is rapidly becoming the next battleground for market share within the automotive market, a debate about privacy concerns and digital ethics is becoming extremely important.
A recent study of McKinsey shows that car buyers are broadly concerned about data privacy and the possibility of hacking when it comes to car connectivity. 37% of respondents are reluctant to use connected car services because they want to keep their privacy, 54% said they are afraid that people can hack into their connected car and manipulate it.
Cars are now undergoing a rapid transformation. They are becoming information hubs on wheels that generate, store and analyze huge amounts of data. The connectivity features in cars potentially give automakers access to private data such as places previously visited, routes and destinations, and more personally, the driver's location (home-/workplace), family information and other sensitive data. Used properly, such data can be used for purposes that bring long-lasting benefits to drivers by delivering them personalized, driver-centric and context-aware driving experiences.
The massive growth in the amount of data generated raises questions related to privacy, confidentiality, ownership, transparency and security. While working with sensitive private data, OEMs have to identify and enforce appropriate rules about data collection, analysis and retention.
The more car manufacturers use private data for purposes that are beyond their original intent, the greater the chances that privacy issues will arise.
To protect private data, car manufacturers will need to consider:
Data ownership. Data should be used primarily for the driver's own benefit. Car owners need to have control over the information the connected car learns about them and also have the ability to manage the flow of their private data, including the possibility to delete all or part of it.
Data storage. When it comes to storing data, cloud storage provides a lot of advantages as drivers can access data from anywhere, keep their information synched across cars, devices and applications or build collaborative datasets. However, drivers should be informed that their personal data is stored in the cloud, know whether it is encrypted, who can decrypt it and for what reason.
Data transparency. Sensitive data requires transparency. For private data to work in ethical terms, drivers need to have a transparent view of how their data is being used or sold. While co-operating with insurance companies and other third party companies, OEMs should get an allowance of car owners before sharing the private information and offer distinct benefits for sharing it. People will gladly enabled automakers to know their private data if they give them value back.
Data security. As cars get more connected and increase in user-friendliness, the risk of car hack or thief is growing, raising a new problem of data loss incidents. Not keeping the personal data secure can lead to the loss of private data and even to identity theft. OEMs need to work out algorithms on how to secure private data and vehicles so that they cannot be hacked.
December 9th, 2014 - Posted by Olga Pogrebniak in context-aware car, self-learning car
The connected car revolution is gearing up, transforming a conveyance that gets you from point A to point B into a powerful personalized device that keeps you seamlessly connected from any location and at any time and predicts your wants and needs along the way.
An altogether new type of car will soon hit our streets: Cars that connect with consumers' digital lives. Cars that get better and better the more they are driven. Cars that become increasingly intelligent as they learn and adapt to the users' personality over time. These cars will recommend likely destinations, maneuvers or routes based on the user's previous actions and current situation. Like a good butler, they will anticipate the driver's needs, including making recommendations for places to visit along the route.
Car manufacturers have become good at gathering and storing data. Now it's all about leveraging this wealth of data and making use of it. To develop personalized, contextually relevant applications and meet next generation customer expectations, OEMs have to put data into the overall context of driving and making it intelligent. Clearly, data and intelligence are not the same thing. Automakers need to work out algorithms that reduce noise as they define and extract truly valuable information.
Data gathered by the Connected Car has limited value if not combined with context – Tweet That!
Raw data is not actionable or useful, but it does become useful by adding context. In order to accurately summarize and represent the data that has been collected, layers of driver-dependent context, or personalization, should be applied. These in turn feeds the user experiences that drivers see and feel when driving the vehicle. Contextualization and personalization is the key to transforming data into real information and delivering personalized context-aware experiences and superior user experiences. With a contextual understanding of the driver, the car can offer a huge choice of applications that anticipate the driver's wants and needs and thus make the overall experience of driving the vehicle more interesting, safer and more compelling. To master contextualization, demographic, historical and contextual data has to be analyzed:
Contextual data refers not only to geo-location but also to road conditions caused by traffic, weather, time of day/week/year or other factors
Historical data will contain a person's visited places, prior routes and actions.
CloudMade is devoted to bringing contextual relevance to drivers. Our products are designed to give both drivers and OEMs actionable insights, thus creating a better experience for drivers and generating significant business insights for OEMs. CloudMade understands the context of the driver, using machine learning against a multitude of content sources like traffic, current and predicted weather, news, events, POIs and more. Cars with CloudMade's technology are smarter and feel particularly personal to their driver.
Learn more about CloudMade's context awareness engine: Predictive Learning System
November 12th, 2014 - Posted by Olga Pogrebniak in for OEMs
In this short video, CloudMade's CTO, Jim Brown, talks about CloudMade's technologies and how they are used to create better user experiences in automotive, outdoors, fitness and wearable products.
The technologies Jim talked about can be found here:
Hybrid – aggregation, sync and management of location content
Mapsafe  – cloud-based personal data and preference storage, sync, access and backup
Micromap - a compressed, routable, searchable geodata format
UMDb – a tool chain that imports data from numerous formats into Micromap
To learn more about CloudMade's technologies and for a demonstration of their capabilities, get in touch.
October 7th, 2013 - Posted by Nick Black in for OEMs, geodata, products, talks, technologies
The CloudMade Team is proud to release Geocoding v3 beta, the latest version of geocoding API services, designed to provide our users with even better data, search features and language options.
We've tried to take into consideration all the feedback from our users. So we'd like to share some key improvements of Geocoding v3 beta with you:
- Fuzzy search with better algorithm of error-tolerance
- Latest data with possibility to search through the different sources
- Handy query language with language choice
- Better data format
Our pricing for geocoding services has not changed:
- $15 per 100,000 transactions and first 100,000 transactions are free each month.
We hope that you enjoy Geocoding v3 beta!
July 24th, 2013 - Posted by Alex Golubenko in api, for developers, news, products, technologies
As of today, SSL is available on all CloudMade services – Map Tiles, Routing, Geocoding.
From now on, to use SSL in your apps and websites, use these base URLs:
https://ssl_tiles.cloudmade.com
https://ssl_geocoding.cloudmade.com
https://ssl_routes.cloudmade.com
You attach your CloudMade API Key and query parameters as usual. For example:
https://ssl_tiles.cloudmade.com/8ee2a50541944fb9bcedded5165f09d9/1/256/15/17599/10746.png
https://ssl_geocoding.cloudmade.com/8ee2a50541944fb9bcedded5165f09d9/geocoding/v2/find.js?query=133+Fleet+street,+London,+UK
https://ssl_routes.cloudmade.com/8ee2a50541944fb9bcedded5165f09d9/api/
0.3/47.25976,9.58423,47.26117,9.59882/car/shortest.js
Available For Only $5 
WIth our SSL services you still get the same free tiers:
Map Tiles – first 500 K SSL tiles free
Geocoding – First 100 K SSL geocodes free
Routing – First 10 K SSL routes free
For any SSL requests you make above the free tier you'll be charged an additional $5, as follows:
Map Tiles SSL $25 + $5 = $30 per 1M tiles
Geocoding SSL $15 + $5 = $20 per 100 K request
Routing SSL $15 + $5 = $20 per 100 K requests
June 21st, 2013 - Posted by Alex Golubenko in api, for developers, technologies
CloudMade's On-the-Go Search
We're re-shaping search-on-the-go at CloudMade, making search faster, easier and more relevant while in the car read on to find out more
In this post we look at how CloudMade's On-Dash and In-Dash platforms use our Hybrid Data and Mapsafe technologies to let users search through point of interest data from many different providers and see the results represented as a single item.  For some real-world examples of this in action, check out Magellan's SmartGPS product that lets users search through Yelp, Foursquare and TomTom data from a single interface.
Global Search
Users want access to a rich world of location information from a single search interface.  After all, Google lets us search the entire content of the web from a single interface, so why should we need to go into separate "apps" when searching for a place to stop for lunch?
When the user searches for "Pizza", search results are shown, sorted by distance, from different providers on a single screen.  In this example you can see results that appear both in Yelp and Foursquare, results that only appear in Yelp and results that only appear in TomTom data – indicated by the icons at the far right of each returned result.
CloudMade's Mapsafe technology provides social context to search results, in this case associating each place with check-ins, reviews and posts made by the user's friends on social networks like Facebook, Twitter and Foursquare.
Disambiguated Results
The next screens show how the user is able to view the details associated with the results.  Different data providers have different attributes and strengths.  Yelp for example includes a 1-5 star rating, Foursquare data is typically updated the most frequently, Tom-Tom often has the most accurate positional data.
CloudMade's Hybrid Data technology handles a process of disambiguation which takes unique results from three (or more) datasets, for example a pizza place in Yelp, Foursquare and TeleAtlas and understands through a process of fuzzy matching that the three separate entities in-fact refer to the same real-world location and presents a single, disambiguated result to the user.  This gives you the best of all worlds: the user gets the latest, richest information from sources like Yelp and Foursquare whilst you can rely on the positional accuracy of a provider like TeleAtlas.
A note on merging and disambiguation – at no point does CloudMade's platform merge results together.  The different databases (Yelp, Foursquare and TomTom in this case) are kept as separate databases with the user being able to search from a single interface, see all results on a single page and quickly filter through different providers.
Live Results
Where devices have an internet connection, through a Bluetooth tether for example, live results from an online search provider like Google Places can be fed into the search results.

Discussion
The capabilities of CloudMade's On-Dash and In-Dash platforms to handle large volumes of rapidly changing geo-data from a vast number of different sources and make the geo-data available to OEMs through a set of cross platform APIs opens up a new range of use cases and possibilities for device OEMs to create vibrant, exciting search experiences.  Some of the new possibilities include:
- Global search across a huge number of different datasets
- Including photos of locations, products, menus in search results
- Including user generated reviews and ratings in search results
- Integrating sources from small, niche providers that may cover one vertical in particular metros but not offer full regional coverage
- Integrating sources that may lack accurate positional data
Contact CloudMade to learn more about the capabilities of our On-Dash and In-Dash platforms.
May 7th, 2013 - Posted by Nick Black in for OEMs, geodata, products, technologies
We're hiring.  Our newly launched Maps business is booming and we need Sales Managers in our offices in London, Stuttgart and Kyiv to take charge of growing the business and looking after our customers.  Like selling?  Love location?  Read on.
Your Mission
Sales Managers in CloudMade's Maps division are responsible for identifying, closing and managing new business opportunities across our business verticals that include:
Public transportation
Retail
Local search and directory services
Local governments
Enterprise
Outdoors & fitness
Advertising, agencies and brands
Fleet Tracking and Management
Online property and real estate
Location based mobile games
Mobile applications including Travel, Navigation, Outdoors
You'll join a world-class team of entrepreneurs, marketing, sales, product development and design professionals and you'll be armed with a highly competitive set of products that include:
Using a combination of your domain knowledge, in-bound leads and outbound lead generation you will lead CloudMade's engagements with new customers   Day-to-day you're responsibilities will include:
Generating leads through phone calls, online research, emails
Triaging inbound traffic, identifying the most lucrative deals
Working with CloudMade's technical account managers and with your customers to scope out, price and close deals
Account management of CloudMade customers in your area
Working with CloudMade's product management and support teams to understand and triage customer requests
Working with CloudMade's marketing and design teams to produce sales and marketing collateral including websites and presentations
About You
Essential skills:
You are a tenacious closer.
You are bold and not afraid to pick up the phone to get a deal done.
You are motivated by finding and closing deals – you don't let anything get in the way of closing.
You have domain experience in location based services or geographic information systems or in web mapping APIs like CloudMade's.  You will hit the ground running.
You are self-motivated and have great time management skills.  You can work under your own steam, from home or part of an on-site team.
You have previous experience in a sales or customer facing role.
Additional skills:
You have previous experience in a sales role in location based services or GIS or local government or fleet tracking or a related industry.
Experience negotiating contracts with map data suppliers.
Compensation
You will receive a competitive base salary and a highly motivational commission scheme based on meeting your monthly sales quota.
Apply
To apply, send a brief covering email and your CV to careers@cloudmade.com.
April 24th, 2013 - Posted by Nick Black in jobs
After we announced the latest version of the CloudMade's On-Dash platform last month, Directions Magazine caught up with CloudMade founder and VP Product, Nick Black, to ask him a few questions.  You can read the full article here.
April 3rd, 2013 - Posted by Anastasiya Sheveleva in for OEMs, interviews, news
Next Page »